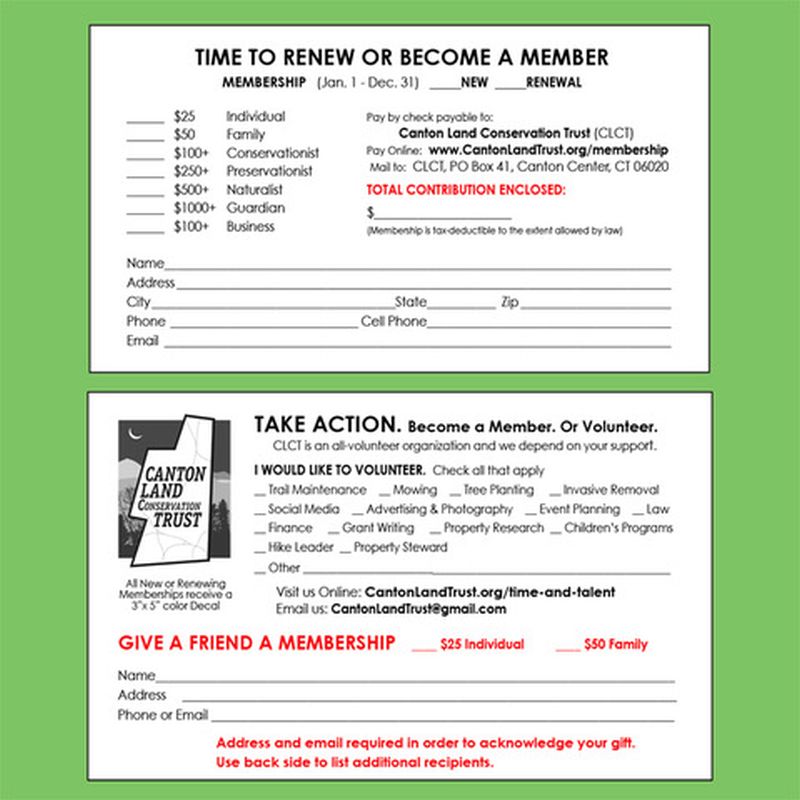 Join our land trust
The Canton Land Conservation Trust (CLCT) is proud to have hundreds of members. Every day, they make it possible for our community to enjoy CLCT lands today — and protect them for future generations to enjoy, too.
Thanks to members' annual dues and individual contributions, we're able to lead conservation, education and recreation across nearly 2,000 acres of Canton's most pristine spaces.
Your Support Matters
For about $2 per month, you can become a member of the Canton Land Conservation Trust.
Every day, the land gives us more than we can measure: natural beauty, recreation, a connection to where we live. When you become a member of CLCT, you give the land something in return.
Our membership tiers start at just $25 per year, and are open to everyone, whether or not you live in Canton.
Join Today!
Join or renew your membership online: Click here.
Mail your membership: Print and complete our form and mail it along with your check made payable to Canton Land Conservation Trust, Inc., P.O. Box 41, Canton Center, CT 06020.
Give: An individual or family membership to a friend or family member
More ways to make a difference
Want to make a one-time donation, or lend a hand with trail maintenance? Learn about other giving opportunities, and sign up for emails about trail crews.