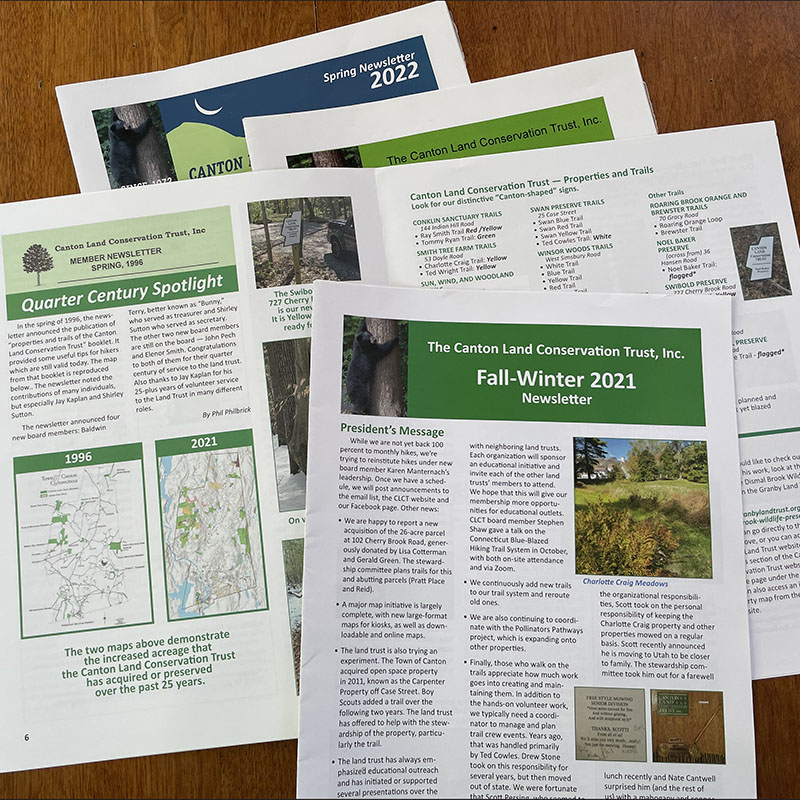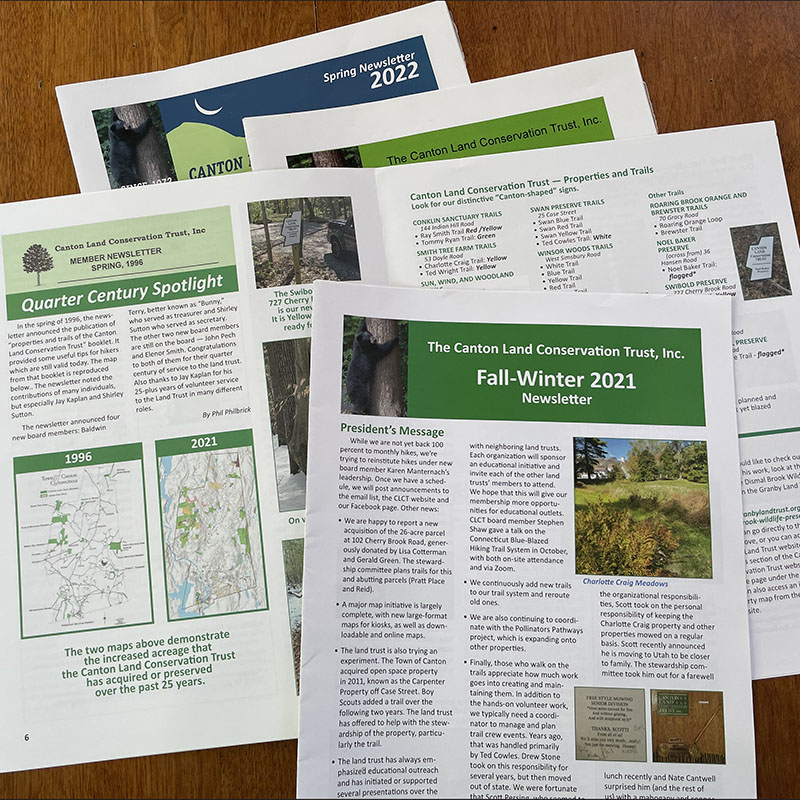 Our latest news for members
Year-round, the Canton Land Conservation Trust (CLCT) is busy with conservation, education and recreation projects. We keep our members up to date with our biannual print newsletter.
To receive your copy, become a member today.
Past issues
Want a deeper dive into CLCT's properties, projects and achievements? Check out our newsletter archives.
2022
Fall 2022: 50 Years, Photo Contest Winners, Todds Donate Land, Pratt Preserve, Onion Mountain
Spring 2022: 50th-anniversary plans, Uplands Preserve, bluebird houses, removing bittersweet
2021
Fall 2021: Carpenter Land Trail, Collinsville Pollen Trail, poet trees, maps initiative
Spring 2021: Bunker Hill Preserve, trail improvements, bird checklists, poetry trails
2020
Fall 2020: Sweetheart Mountain, pollinator pathway, summer hiking challenge kickoff
Spring-Summer 2020: COVID response, favorite hikes, remembering Ted Cowles
2019
Fall 2019: Winter birds, American chestnut initiative, geology hike, hikes of the month
Spring-Summer 2019: Bristol Farms, vernal pools, botanical hike, removing barberry
2018
Fall 2018: Hike with history, Canton's streams and mill ponds, tackling invasives
Spring-Summer 2018: Connecticut Trails Day, Canton's mill history, monthly hikes
More ways to connect
While our print newsletter is only available to Canton residents and dues-paying CLCT members, we also share big news and upcoming events online. Follow us on Facebook and sign up for emails to stay connected.