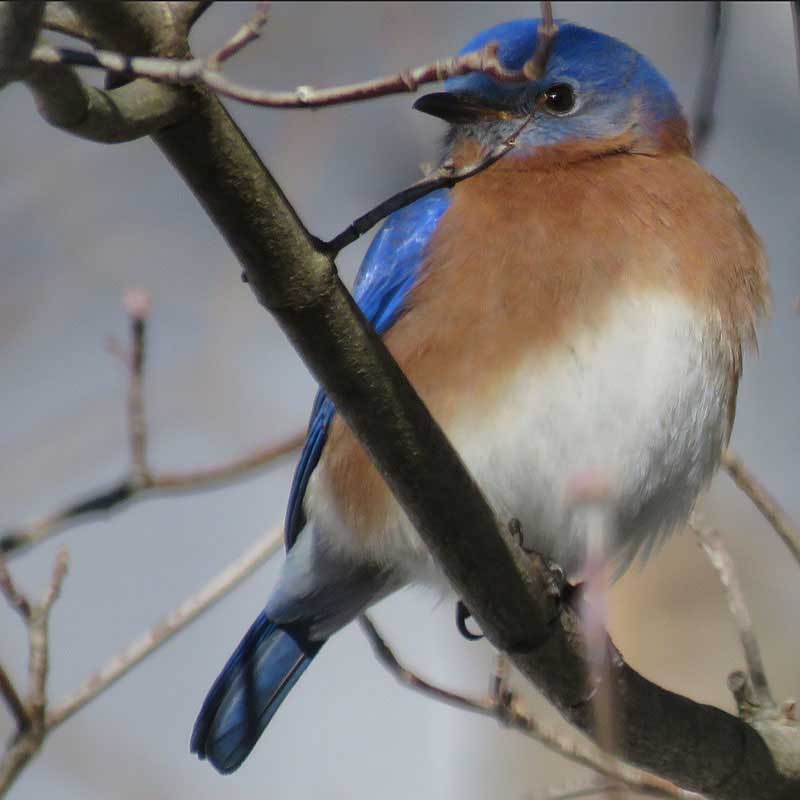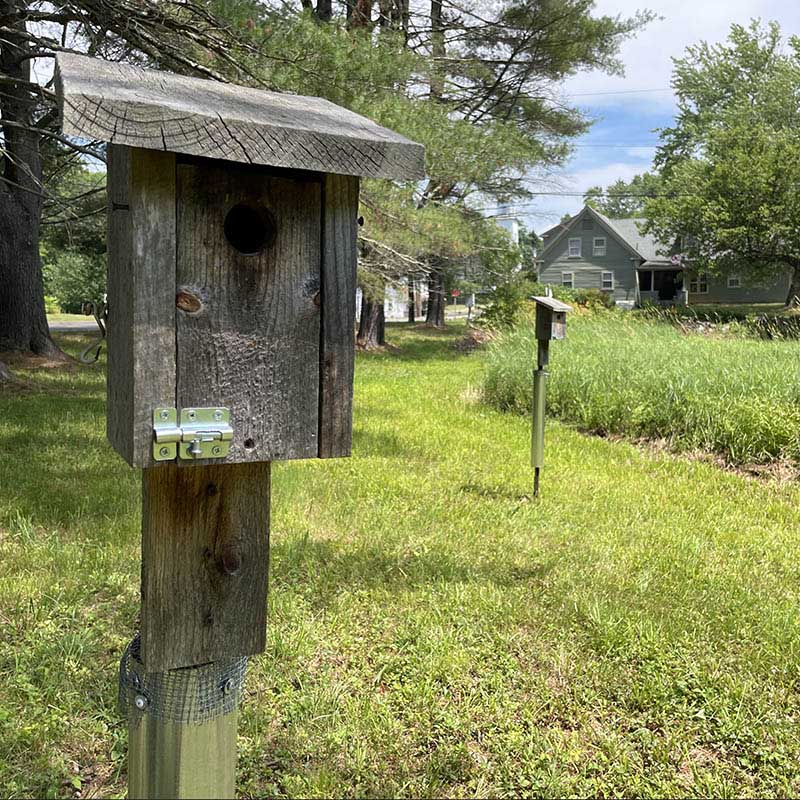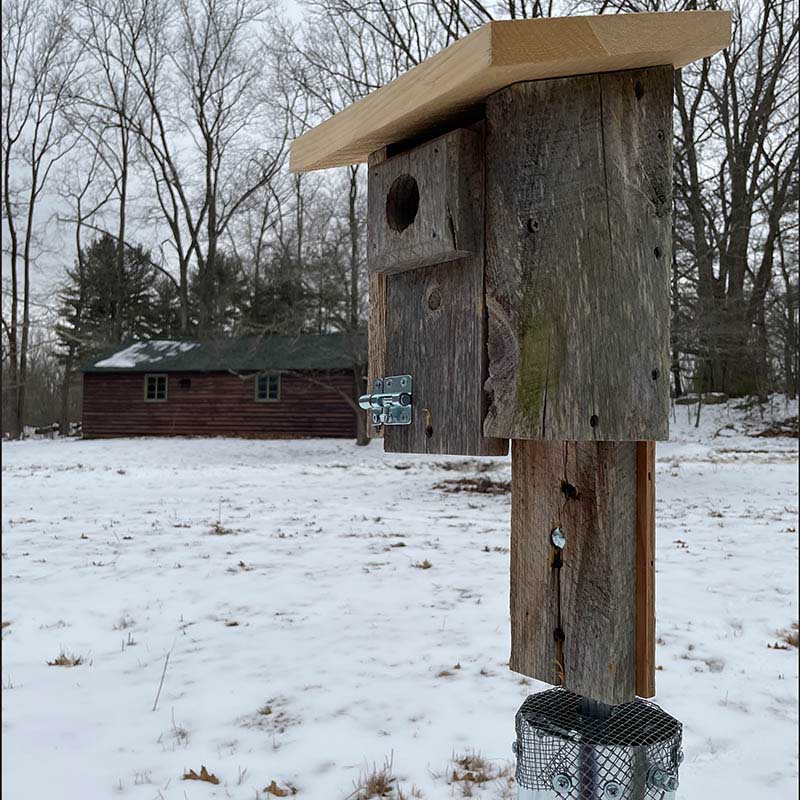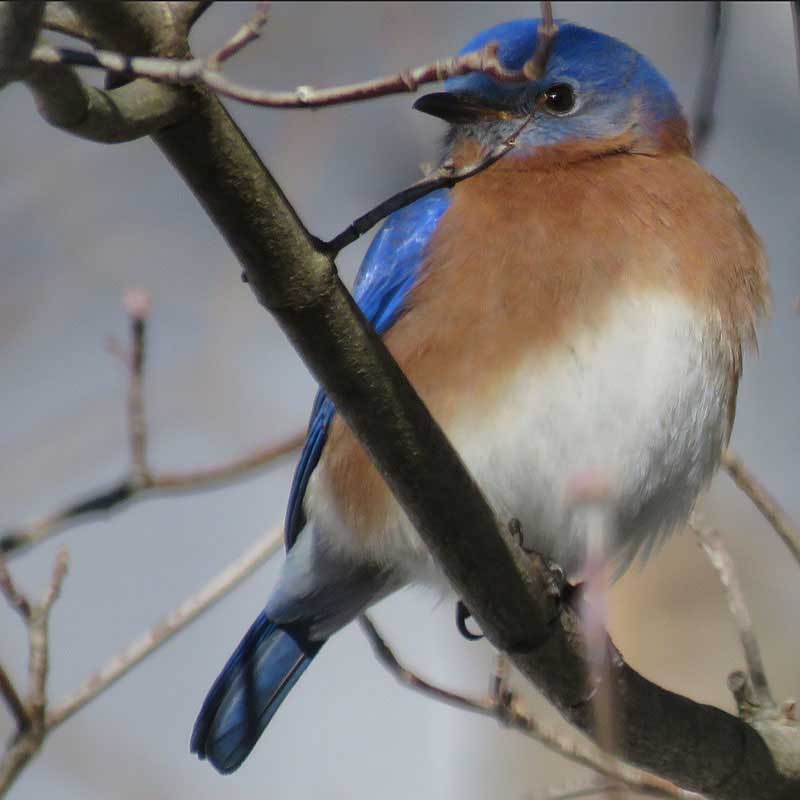 A home for one of Connecticut's favorite birds
It's easy to root for the Eastern bluebird. These friendly songbirds are the only bluebird found in Connecticut, and a long-time symbol of hope and happiness. Males are brilliant blue in every season, offering a welcome flash of color even in winter.
Decades ago, the Eastern bluebird's numbers were dwindling. But thanks to community-wide efforts to install nest boxes, Connecticut's bluebird population is on the rise again.
The Canton Land Conservation Trust (CLCT) is proud to do our part.
CLCT's bluebird nesting boxes
Every year by late March or early April, Eastern bluebirds begin to nest in Connecticut. Our land trust makes sure they have plenty of homes to choose from in Canton.
So far, CLCT has installed:
These nesting boxes are built and maintained by volunteers. Want to get involved? Learn about all of our volunteer opportunities.
Support our bluebird initiative – and more
CLCT's conservation projects run on member dues. By joining, you help us protect native plants and animals like Eastern bluebirds.
Tips for installing a bluebird house in your yard
If you live near open meadow or grassland, try installing a bluebird nesting box – or two.
If you have the space, install nesting boxes in pairs. Because of the competition from other birds, this increases the likelihood that one of the boxes will become a home to a bluebird couple. Pair nest boxes about 20 feet apart, with pairs of houses about 300 feet apart.
Ideally, place houses along the northern or western edges of fields. Bluebirds like having one to two acres of open meadow or grassland. Face the opening toward the southeast to get the morning sun and avoid prevailing winds.
Place boxes more than 50 feet from heavily wooded areas. This discourages house wrens, a common competitor.
Mount nesting boxes about 5 feet off the ground. If possible, it's nice to have low-lying branches nearby, to give young birds a safe place to land. But always avoid placing boxes near overhead branches, which can give predators an advantage.
Install predator guards. For example, each of CLCT's refurbished houses has a Kingston stovepipe-type guard and an extender on the box entrance.
Learn more at nestwatch.org, which offers helpful tips and resources from the Cornell Lab of Ornithology.
Stay up to date on activities
Want to learn more about Canton's native wildlife? Our land trust leads year-round community activities like birding tours, group hikes, and educational presentations.
Subscribe to CLCT emails to receive announcements right in your inbox. You can also follow us on Facebook.