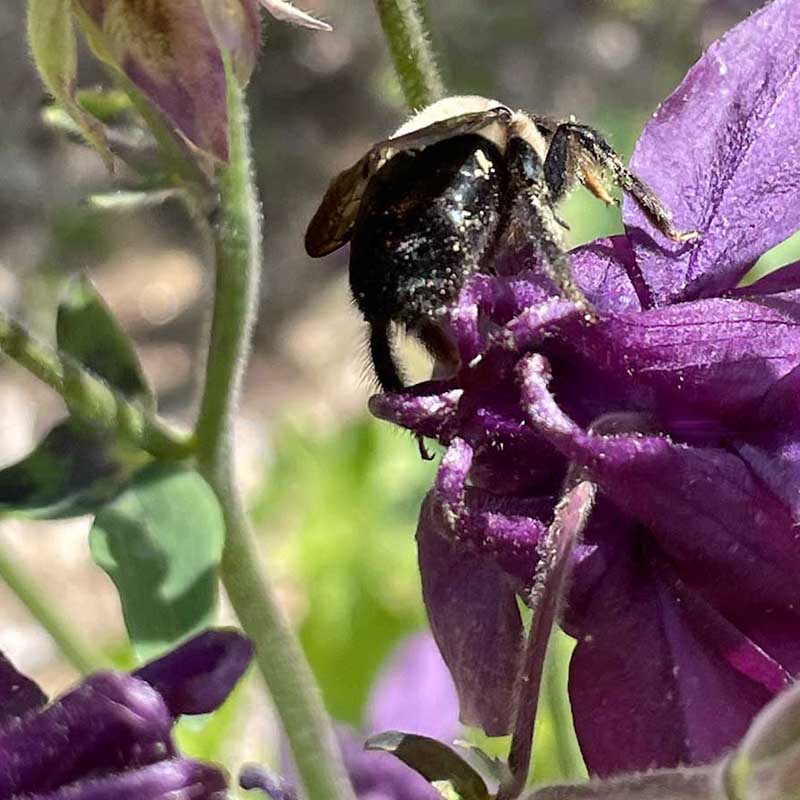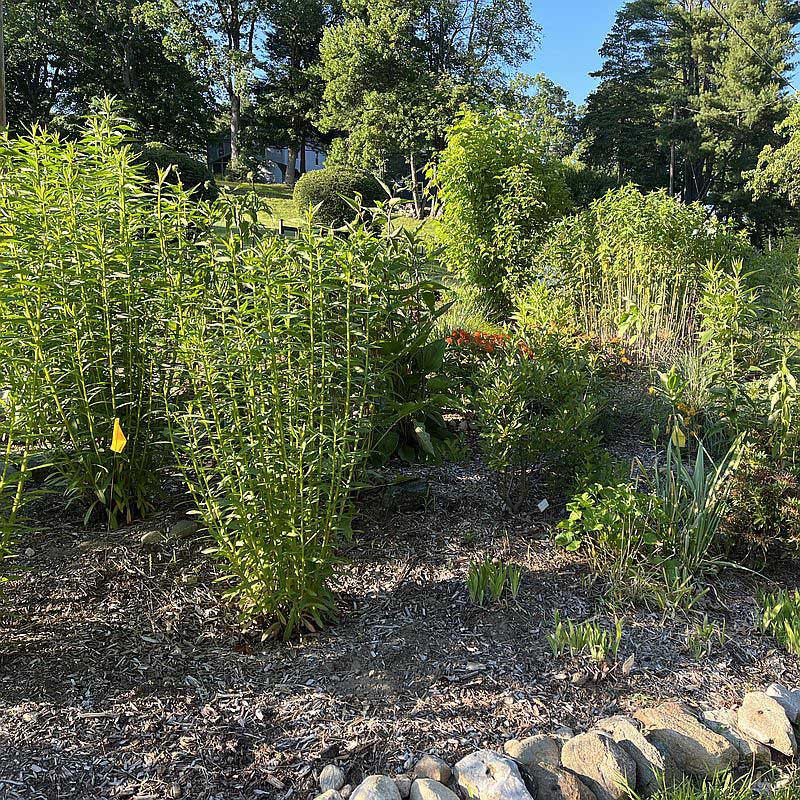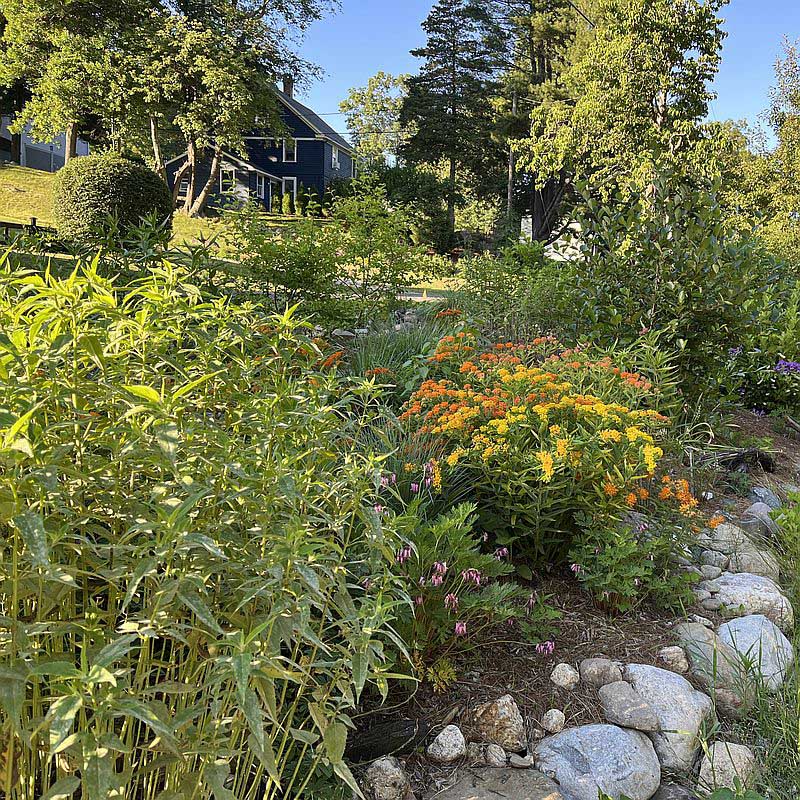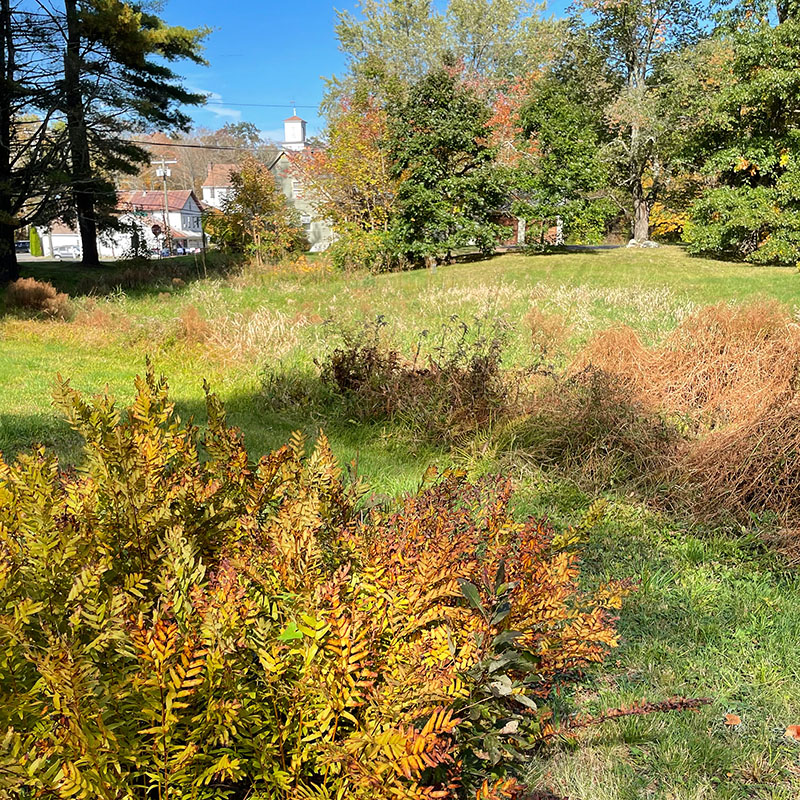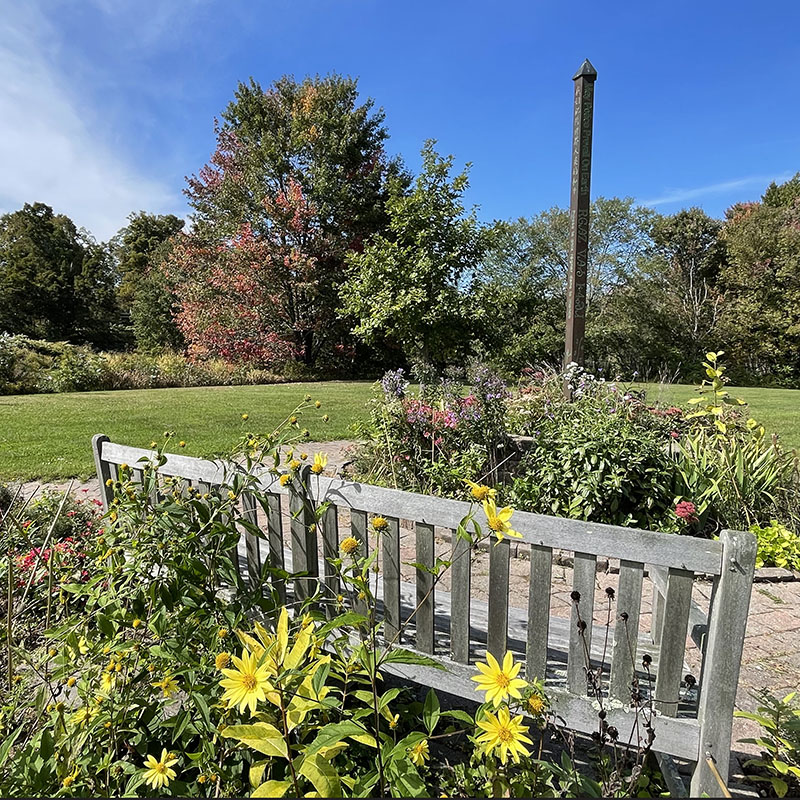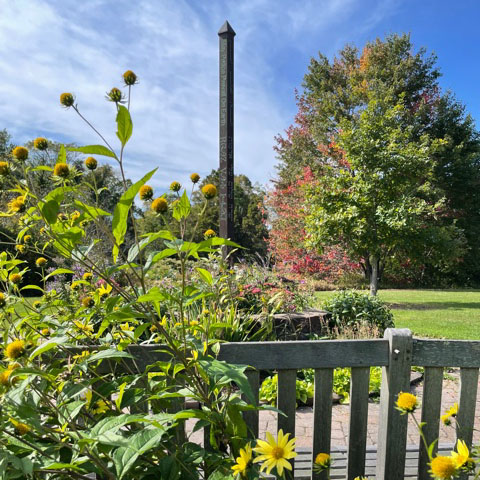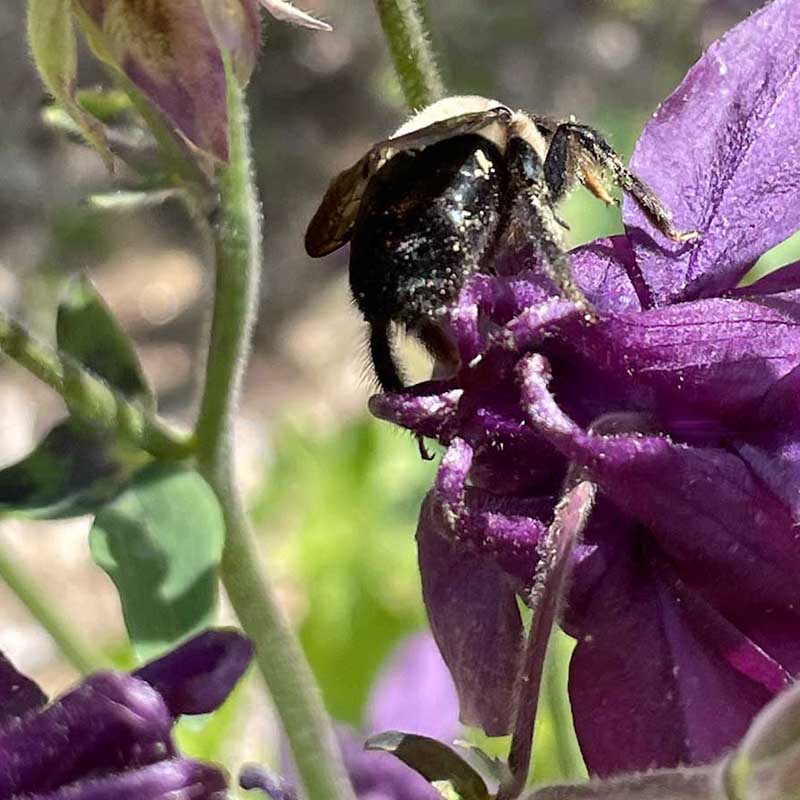 What are they?
Pollinator Pathways are an effort to connect and restore native habitats that allow for pollinators (bees, butterflies, wasps, flies, and birds) to fly the short distances between food sources in order to thrive. By planting for pollinators, we supply them with the food and shelter they need in their multiple growth stages – eggs, caterpillars, and adults – and in turn supply food for birds, other insects, and small animals.
What are we doing?
Canton Land Conservation Trust has partnered with the Town of Canton, the UConn Master Gardener program, the Cherry Brook Garden Club, and other volunteers to manage invasive plants and replace them with the native plants that are better suited to our climate and a crucial source of food and shelter to native insects and birds. Our projects include invasive plant removal, ways to create a meadow and how to selectively mow to encourage native grasses, herbaceous and woody plants instead of lawn grasses. CLCT Directors,' Karen Berger and Theresa Sullivan Barger, launched the public education part of the Pollinator Pathway effort in 2019 with several workshops given via Zoom and in-person to local groups. The workshops draw from the national movement to create native gardens and why it is important to plant for pollinators and how to attract them. Native plants require less work to maintain, and after they're established, they no longer need regular watering. Currently, following our lead, several local business owners are planning to plant native flowers, shrubs and trees on their properties undergoing renovation.
We have multiple goals.
One goal is to supply food for pollinators and birds by planting native species that offer berries, fruits, nuts, seeds and pollen. In addition, we will continue to battle invasive plants.
A second goal is to provide a favorable habitat for both nesting birds and migrating birds. This includes bluebird boxes for our resident bluebird population.
Third is to share this information with the public on our properties.
Sample topics:
Plant selections for spring, summer and fall bloom
Invasive plant ID and removal strategies
Weed and Pest ID: Good bugs and bad bugs
Bluebird needs and best practices on providing safe habitat
Pesticide-free and herbicide-free garden practices that support insects and birds
No Mow or Low Mow practices for grasses
Pollinator Pathway Fund
The land trust has established a Pollinator Pathway line item on the 'donations' page so people can make dedicated donations to the Pollinator Pathway Fund. These funds are used to buy plants, educational signs, and plant identification labels.
Roaring Brook Nature Center Butterfly Garden (non-profit)
Even before the Pollinator Pathway name was coined, the Nature Center on Gracey Road in Canton created a butterfly garden of native plants for the benefit of the bees, butterflies, and other native pollinators. The garden is located between the parking lot and Gracey Road.
Collinsville Pollen Trail (town-owned)
The first of the Pollinator Pathway projects affiliated with CLCT was The Collinsville Pollen Trail (CPT). It is an ongoing habitat restoration project on a parcel that was choked with invasive Japanese Knotweed. The entire Town of Canton parcel that we have access to is 8.8 acres with the 0.3-mile CPT corridor encompassing a mowed stretch of turf/crab grass on either side of the paved Farmington River Trail, part of the Farmington Canal Heritage Trail. This stretch has been the primary focus of our restoration and planting efforts. In addition, a steep bank drops down to a wetland of skunk cabbage that drains into Rattlesnake Brook. A mixed hardwood forest flanks the brook with the remnants of two small dams. Knotweed, bittersweet, barberry, honeysuckle, multiflora rose, and other invasive plants are prevalent, but volunteers have been working to remove them. There is also an assortment of native shrubs – spicebush, winterberry, dogwoods, and witch hazel in addition to mature oak, white pine, yellow birch, and red maple trees.
In the spring of 2017, the project began with the removal of a 275' x 25' hedge of Japanese knotweed at 3 Allen Place, Collinsville under the direction of CLCT board member Karen Berger, an advanced master gardener. Three dozen neighbors, garden club members and master gardeners volunteered more than 240 hours in 2017 and 2018. The group cut, bagged, and removed knotweed in three successive rounds each summer. No planting was done.
In the spring of 2019 Eversource removed over 60 mature trees along their 50 ft. power line right of way as part of their vegetative management program. This left a barren landscape the length of Allen Place from Maple Avenue to Dyer Avenue. The neighbors, including CLCT board member Holly Hambleton, rallied around this opportunity to create a native plant corridor, the Collinsville Pollen Trail, using the Pollinator-Pathway as a model. Eversource donated and planted 30 native shrubs and small trees in the fall of 2019 and volunteers established beds for native plants. The planting began.
In 2020, 200+ native plants and 30 additional shrubs were donated and added to the site. Volunteers worked 700 hours watering and maintaining the new gardens while continuing to remove invasive plants. Four new beds were created in 2021 to expand diversity and relocate native plants from a construction site. In 2021, 55 volunteers worked over 1,000 hours. Roaring Brook Nature Center Director Jay Kaplan led bird walks in May of 2020 and 2021 to create a baseline list of nesting and migrating birds along this corridor. Bird walk participants identified 32 birds in 2020 and 35 in 2021.
We are beginning year six of aggressively cutting knotweed, and while some of the turf grass area has been reclaimed, some of the knotweed remains. Our site is a challenging one. The turf area is very poor, rocky, dry and in full sun. And any trees or shrubs planted under the power lines have a max height of 25 feet. We have had successes and failures, but we have greatly expanded the plant quantity and diversity as we seek to provide keystone plants for insects, thereby increasing the food supply for nesting and migrating birds. Keystone plants are native plants that serve as host plant for a large number of native bees, butterflies, birds, and other pollinators. In 2022, the town agreed to hold off on mowing some of the turf areas until early June and we were rewarded with stretches of naturalized flowers, some of which were beneficial to our early spring pollinators.
As the CPT is adjacent to the Farmington River Trail for .3 mile, we have hundreds of trail users who often ask what we are doing. We educate by answering questions, identifying, and demonstrating invasive plant removal and pointing out pollinators on native plants. Over the past two years, the native plants have grown in number, and we will permanently mark and identify what we have with plant ID tags. We plan to use the area as a demonstration plot to educate the public on what to plant for both pollinators and birds in all four seasons. The CPT also demonstrates that native plants can be just as beautiful as their foreign competitors. To volunteer to help with this effort, please contact Karen K. Berger at [email protected]
To learn more about the Collinsville Pollen Trail go to our website created by Jenny Abel, www.collinsvillepollentrail.org
Peace Pole Pollinator Pathway (town-owned)
In 2021, the town of Canton was looking for someone to take over the maintenance of the Peace Pole Garden at the corner of Simonds Avenue and East Hill Road near the Mills Pond Recreation area. CLCT board member Theresa Sullivan Barger volunteered to take on the task with the purpose of creating a second Pollinator Pathway project. Along with Kirsten First, a fellow master gardener, they removed weeds around the Peace Pole and replaced them with native perennials. They began a multi-year effort to remove knotweed and other invasive plants from around the perimeter of Little Mills Pond to make room for the native plants to thrive. Another project on-site is a demonstration area on "how to create a meadow" on an area that was formerly lawn. In April of 2022, they laid down a black plastic tarp on the lawn to smother the grass and, next to that, marked off a similar-sized area with stakes as a 'no mow' area. To volunteer, contact Theresa at [email protected].
Charlotte Craig Meadows (CLCT Property)
CLCT's first property in 1973 was the gift of the Canton Center Green opposite the U.S. Post Office and First Congregational Church of Canton Center on Cherry Brook Road. The property has been maintained as a meadow for close to 50 years. It has been a challenge over the years to keep this property mowed, as a wetland bisects the parcel. For the first time, we are looking at a less aggressive mowing schedule to see what grows. An informal plant survey in both the fall of 2021 and spring of 2022 revealed that there are native plants here that can be encouraged to outcompete some of the more common non-native grasses and weeds. The challenge will be to control some of the invasive plants around the perimeter and to keep the woody plants from taking hold. Additional native plants may be introduced based on the site conditions with the goal of creating more diversity. The parcel is also the site for four American Chestnut trees as part of our Chestnut Initiative and two bluebird boxes.
Pratt Preserve (CLCT Property)
The Pratt Preserve consists of three parcels on Cherry Brook Road that have recently been combined to create a future educational area. Cherry Brook runs through the property and there is already an abandoned field that is mowed. Volunteers plan to start another Pollinator Pathway in an area that is now an old field near Cherry Brook, we plan to install some informational signage to highlight the history and importance of Cherry Brook to the development of Canton. There are also several distinct habitat zones, from the fields down to the banks of the brook and then up the forested slopes.